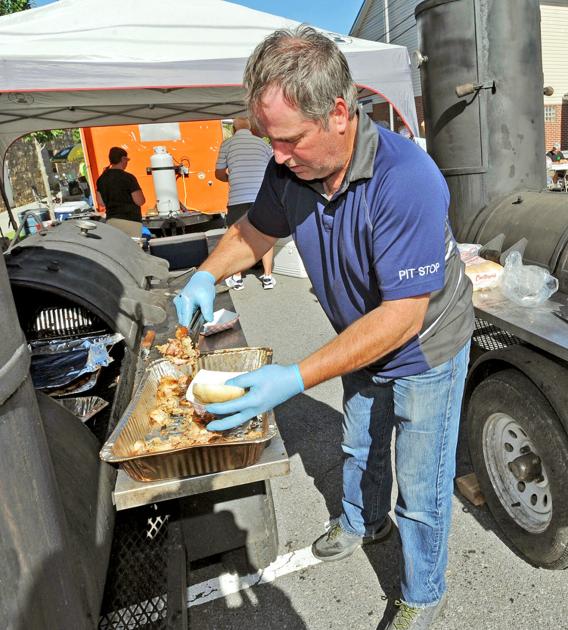 EBENSBURG – Food and friendly people are the reasons Windber's Luree and Chip Shaffer made their way to Wheels & Wings in Ebensburg on Thursday.
"We missed it last year," said Luree Shaffer.
She and her husband rode their Harley Davidson Dyna Wide Glide motorcycle to the event which was canceled in 2020 due to the COVID-19 pandemic and were delighted to see the streets packed with people.
"We started coming here about three years ago," said Chip Shaffer. " It is a beautiful place. "
The couple planned to sample as many food vendors as possible. Local restaurants compete against each other to see who has the best wings in the area.
Another aspect of the festival that the couple said they enjoy is watching motorcycles and classic vehicles.
The event ran from 5 p.m. to 10 p.m. and vendors lined up in parts of Sample and North Center streets.
The Fuse group performed from 6 p.m. to 9:30 p.m., and classic cars, trucks and motorcycles were parked on adjacent lots and on nearby streets for viewing.
Todd Kubat sat in his 1928 Ford Roadster pickup truck, painted blue and black with beige wheels, in a parking lot across from the old Cambria County Jail.
Thursday's event was the second time he had entered his classic vehicle at the auto, truck and motorcycle show, and the last time he had taken the first for the oldest vehicle and wanted to repeat fulfillment.
He and his wife, Patty, live nearby and make it an annual tradition to visit the festival for a day.
"It's always a good time," Kubat said.
The two were upset with last year's cancellation and were happy not only with its return, but also with the weather on Thursday – a high of 76 degrees Fahrenheit and no chance of precipitation.
"I am so happy that there is no rain," said Patty Kubat.
Danea Koss, Director of Community Development for the Borough of Ebensburg, was equally delighted.
"It's going to be a beautiful night," she said.
Koss also noted the difficult decision to cancel last year's festival and how awesome it was to make a comeback.
"We are very happy to be able to welcome Wheels & Wings again," she said. "It's great to see our stores and restaurants, bars and clubs busy again, and we expect a great turnout."
Crowds consisting of area residents and visitors from all over filled the streets even an hour before the event, starting to explore the various fairs and enjoy the atmosphere.
Mike Anspach, from Altoona, made the trip up the mountain to attend and also intended to visit Thunder in the Valley in the next few days.
"I came to eat and watch the cars and trucks," he said.
Anspach drove his 2016 Harley Davidson Soft Tail Slim around town after three years of not visiting due to bad weather.
Before that, he was a regular and said he looked forward to exploring everything on offer on Thursday.
Joshua Byers is a reporter for The Tribune-Democrat. Follow him on twitter @Journo_Josh.