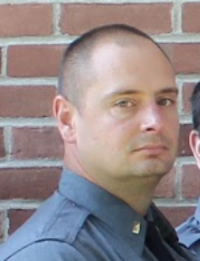 PLATSBURGH – SUNY Plattsburgh State University Police Lt. Robert Mesec was killed in a motorcycle crash in central Pennsylvania Thursday afternoon.
Her family, campus and local community mourn her loss.
"We mourn with our siblings from the SUNY Plattsburgh University Police Department as they grapple with the tragic and sudden death of Lt. Robert" Bob "Mesec," a statement from the Local 812 Union of the Plattsburgh City Police.
A CAREER OF SEVERAL DECADES
"Lt. Mesec had kept the students of SUNY Plattsburgh and the streets of the city of Plattsburgh safe for almost 20 years. Lt. Mesec was incredibly intelligent, witty, always helpful and most of all, compassionate.
"We thank you for your service, Lieutenant. Rest in eternal peace."
According to information published in the York Daily Voice, Mesec, 44, of Plattsburgh, was riding a motorcycle on Interstate 81 southbound in Swatara Township, Lebanon County, around 3:13 p.m. when the crash has occurred.
HAD WIFE, DAUGHTER
SUNY Plattsburgh President Alexander Enyedi released a statement on Twitter regarding Mesec's death on Friday.
"It is with a heavy heart that I write to inform you of the death of University Police Lieutenant Robert Mesec, who was killed in a motorcycle accident on Thursday, September 16, 2021, while on his way to a rally motorcycle riding in Virginia. He was 44 years old. " Enyedi's statement says.
"Lt. Mesec joined the New York State University police at SUNY Plattsburgh in 2000 and supported our college for 21 years. He was promoted to lieutenant in November 2008.
"He is survived by his wife, Jennifer, and his 12 year old daughter, Nora, both of whom he loved more than anything."
Enyedi said funeral arrangements were incomplete, but would be shared with the campus community when available.
"Our condolences to all who knew and loved Bob. He will be missed," said Enyedi.
ADVICE OFFERED
The campus has offered help to anyone grappling with the news of Mesec's loss. Assistance is available from the Employee Assistance Program by calling Elin O'Hara, Coordinator, at 518-564-5187, emailing [email protected], or visiting https: //www.plattsburgh .edu / about / offices-divisions / administration- finance / human-resources / benefits / employee-assistance-program.html
Or people can contact the Student Health and Counseling Center at 518-564-3086 or [email protected]