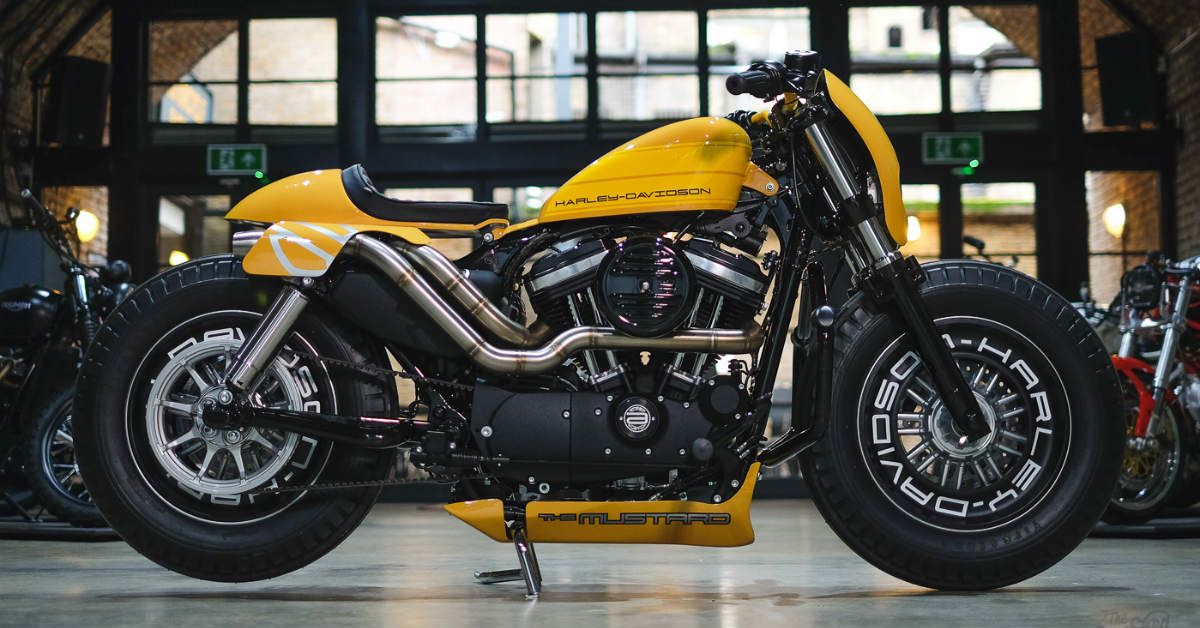 The Harley davidson Sportster also referred to as "XL" is a line of Harley-Davidson motorcycles which have been in continuous production since 1957. Successor to the K model, the Sportster, when introduced, featured an overhead valve engine derived from its predecessor. In addition, the introductory model adopted several features of the Harley-Davidson KH model, including the front suspension, frame, fenders and large gas tank. The series has since been built in various magnificent models including the very famous Nightster, Forty-Eight and Roadster, among others.
However, due to stricter Euro 5 emissions standards, the original Sportster range was discontinued in Europe in 2020. As a result, a brand new model called "Sportster S", powered by a Revolution Max engine was introduced in 2021 Nonetheless, regardless of its stoppage, the original Sportster survives. Some vintage and more modern examples of the original Sportster were deemed worthy of modification, and these extremely talented stores have built the most magnificent examples we've seen.
8


Cohn Racers – XR 1200 X
Based in Florida, the Custom Cohn Racers is run by former Apple employee Juan P-Ilzarbe. The company built this custom XR 1200 X for '50 Eggs' founder and Harley enthusiast, John Kunkel. The main on the team side for the construction was weight reduction, improved handling and improved braking.
As a result, the bike now has a new welded rear subframe unit, Öhlins Racing forks, a new manufactured seat and a leather saddle supplied by Relicate Leather. However, the modified bike retains its original V-twin, but its on-board DME has been readjusted.
RELATED: Here's What A 2000s Harley-Davidson Sportster 1200 Costs Today
7


Caf̩ Racer Dreams РXR 1200
The XR 1200 was released in the US in 2009. However, with oddly low sales, the model was discontinued in 2013. The issues that resulted in low XR 1200 sales have been analyzed and addressed by a few customs houses. and Café Racer Dreams. is one of them.
The highlight of the incredible modification is its beautifully sculpted aluminum tank, which was made in collaboration with the talented guys from the Valtorón foundry. Notably, the engine was left in stock, but a Remus PowerCone exhaust system was added.
6


Rajputana – Forty-eight
Being a huge motorcycle sales market, India is home to several local and foreign motorcycle companies, including the iconic Harley-Davidson. In addition, several tuning workshops have sprung up in India helping enthusiasts realize their wildest dreams of building motorcycles, and Rajputana is one of them.
The talented tuner built Paasha, originally a Harley-Davidson Forty-Eight which was modified to a beautifully black spectrum with flat tires. The core of the construction has not been made public, however, Rajputana says it takes between six and eight months to complete.
5


Raw Crafts – Forty-Eight
Rough Crafts is a Taiwan-based custom bike builder, and this beautifully modified Sportster showcases the company's incredible manufacturing prowess. Precisely, this is a 2011 Sportster Forty-Eight 1200 that was built in a beautifully designed custom building called "The Bomb Runner".
The second offers Rough Craft 'Guerilla' bikes, this build receives a complete black paint job with a few polished components. It includes several internal custom parts, including triple shafts, fenders, reservoir, clutch covers and the beautiful exhaust system.
RELATED: 15 Things You Didn't Know About the 2019 Harley-Davidson Iron 1200
4


Cowboy Chopper – XR1200
Another Taiwan-based tuner named "Cowboy's Chopper" also made this list courtesy of this delightfully modified Sportster XR 1200. , an alloy rear section and a slim fuel tank.
Surprisingly, the modification work also included a complete overhaul of the original grinder, increasing the displacement to 1,250 cc. The construction includes a stainless steel inlet and a unique exhaust system.
3


Customs DP – 1200
US-based motorcycle tuning shop DP Customs knows how to grab attention with their builds, as seen with this amazingly modified bike based on a Sportster Iron 1200. In a complete makeover of the Sportster, DP Customs fitted it with an internally constructed steel front and rear cowl.
It also features Progressive 970 rear shocks and a custom chambered exhaust. The modified bike had its front end lowered and topped with an RSD clip-on handlebars.
RELATED: 10 Things You Should Know Before Buying a Harley-Davidson Softail
2


Deus Ex Machina – 1200
With weight reduction as their primary focus, Sydney-based custom shop Deus Ex Machina tore this Sportster to pieces and meticulously reassembled it into a café-racer. Essentially, several features of the bike were built in-house by Deus.
These include a bespoke front and rear fender, triple clamp, tank strap, subframe, and single saddle, while the bike also featured a shaved Yamaha SR500 fuel tank. In addition, among other modifications, the engine received a K&N air filter and a performance Vance & Hines 2-into-1 exhaust.
1


Thunderbike – XL 1200 X
It might be hard to find a Harley tuning store in Europe larger than the Thunderbike. That said, here's "Dunner 77", a custom Harley-Davidson Sportster XL 1200 X courtesy of Thunderbike. The bike originally has a "Dark" Nightster style but with a classic 1948 style little peanut tank and a super small single saddle.
However, at the request of the owner, Thunderbike has now built this Sportster into a unique masterpiece with several custom Thunderbike features and unique custom paintwork from Kruse Design.
The 8 Worst Harley-Davidson Motorcycles Ever Made
While some bikers won't ride anything other than a Harley, others wouldn't because of all the well-documented issues with HD ownership.
Read more
About the Author