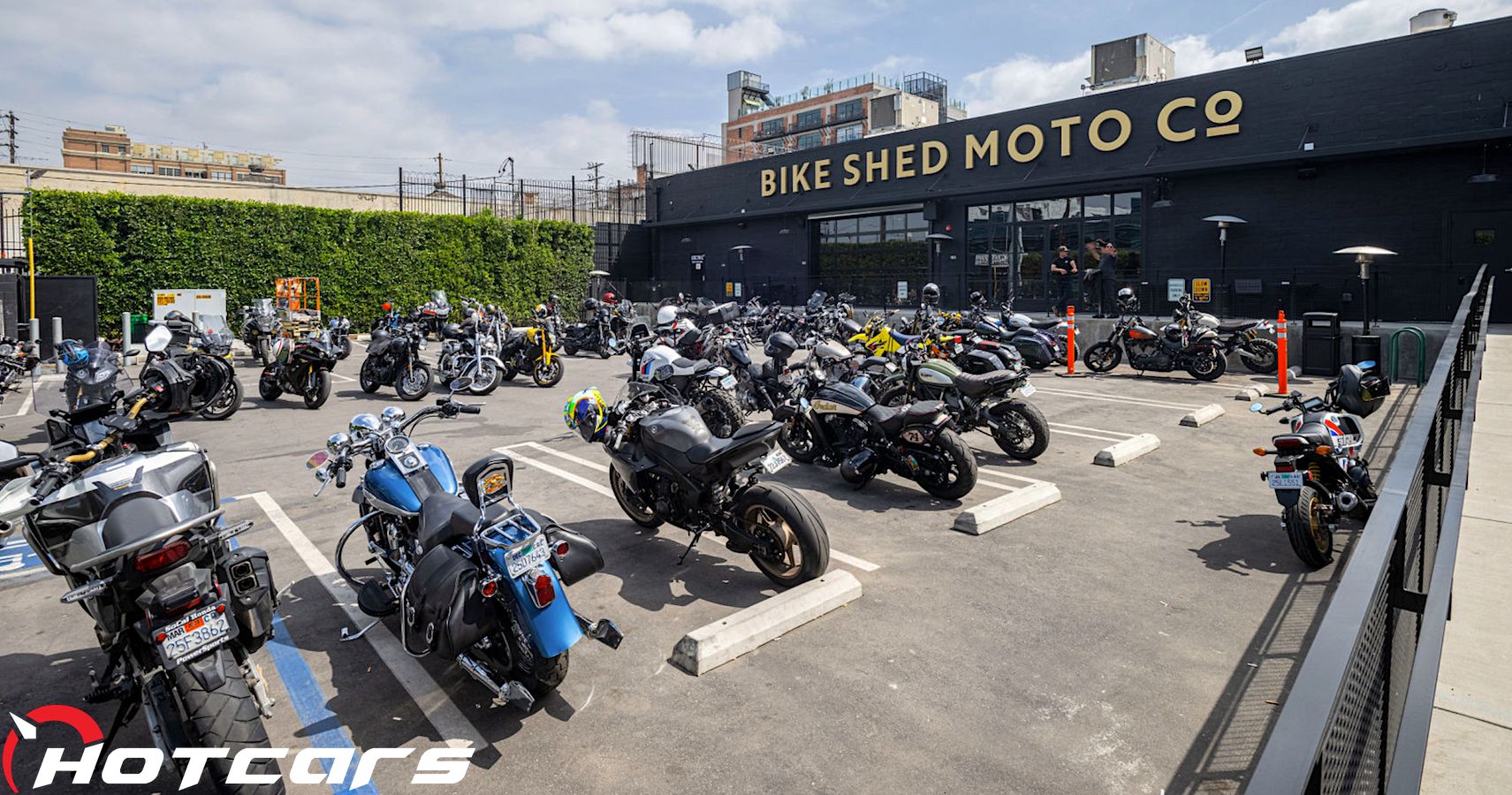 When I finally tracked down Anthony "Dutch" Van Someren, he was sitting in the afternoon sun under a Victorian railway arch. It's 5pm in London, and some of the more than 2,000 customers the Bike Shed Motorcycle Club welcomes each week are keeping staff busy, who sometimes appear in the background to stack empty boxes. As well as looking after customers, Van Someren and his team are also busy preparing for the 10th annual Bike Shed Show, which will take place May 28-29 at London's Tobacco Dock. With over 240 custom motorcycles imported from all parts of the world, it has become one of the largest independent shows in Europe.
And as if that weren't enough, he recently brought his brand of motorcycle-inspired hospitality to America, and on a grand scale, with the recent opening of The Bike Shed LA. The 30,000 square foot venue in downtown Los Angeles' vibrant arts district features a 325-seat restaurant, bar, cafe, members' bar, retail store, hair salon , a tattoo studio and event space. HotCars got a taste when we attended Ducati's "Ready 4 Red" tour, the first event held at the new venue before it opened to the public. Also our first chance to preview the new DesertX.
RELATED: 2021 Triumph Thruxton: Cafe Racer Costs, Facts & Figures
Independence and freedom
For 17-year-old Van Someren, motorcycles were not only cool and exciting, but also a means of independence and freedom. He then blazed a trail in the media industry and, as a creative director, entering middle age, had an enviable portfolio and solid prospects. Yet when he reflects on his media days, it feels like success has been overshadowed by disillusionment. Van Someren's passion for motorcycles would once again provide a route to independence and a means of escape, when a growing interest in the resurgent cafe racer scene led him to start a blog in 2011, which he called "The Bike Shed".
From blogging to growing brand
Taking an idea from notional to tangible requires the will to act. The blood, sweat and tears part. Fast-talking and unapologetic Van Someren exudes a sense of action, and his abundant energy was no doubt instrumental in nurturing an idea for a motorcycle blog that can now lay claim to being the biggest independent of the planet and, over the course of a decade, grow it into an international brand with a footprint in two of the world's major cities. He also thanks his team, many of whom volunteered early on, and his wife and co-founder, Vikki, also a longtime motorcyclist and successful event manager.
REALTED: 9 best jammers on the market right now
When HotCars recently spoke with CROIG Founder David Chang, he told us how quickly ideas can take off on evolving social media platforms, and we asked Van Someren if he's had a similar experience. when he started his blog. "Facebook had just started to explode," he told us. "In 2013, we had over 20,000 subscribers." Van Someren wrote about the cafe racer scene and custom motorcycle shops, like Workhorse Speedshop and Madhouse motors, bringing together an eclectic group of enthusiasts from all walks of life, sharing experiences and ideas as the "new wave" brought new commitment.
A band of brothers
"We were talking about bikes," he said, "but it was also about people. It doesn't matter what you do, what background you come from; once you find out the other person is a motorcyclist , you're on flat ground. It breaks down barriers and makes you feel part of a club. A camaraderie, Van Someren believes, is born out of a shared understanding of the inherent risks inherent in riding. leveraging that sense of community led to the creation of the first show, taking The Bike Shed from purely virtual to physical and bringing together builders, riders and enthusiasts with non-cyclists who shared an interest in the evolution of Culture.
Where engineering and art meet
Van Someren had chosen words to describe industry-run motorcycle shows, which we'll paraphrase as "boring and soulless." From the start, they decided to organize the first Bike Shed Show around a set of founding principles, which celebrate the custom motorcycle scene in a family environment, where all are welcome, with space to move, spaces to relax and quality. hospitality offered by independent companies. The first show, held under the old railway arches in Shoreditch, London, in 2013 was a display of 55 custom motorcycles from as far away as Thailand, including bikes like this Ducati (here -below); displayed on pedestals, with no strings or marketing gimmicks. Plus, an art exhibit, pop-up hair salon and tattoo parlor, and of course, decent food and drink, combined to attract over 3,000 visitors.
Sensing they had tapped into a new vein of interest, the Van Somerens and their team decided to put on a second, larger show the same year. It was a huge success, attracting wide attention, which included two notable motorcycle enthusiasts with capital to invest, and keen to see the show take on a more permanent form. With start-up capital in hand, the team drew up a business plan and in 2015 established the Bike Shed Motorcycle Club in the same trendy Shoreditch location as the first show. A social club and hangout catering to a younger crowd of cyclists and billed as the "Soho House for Bikers". The original Bike Shed has become a Mecca for well-heeled London bikers and a destination for motorcycle enthusiasts. A number of the venue's many backers include famous motorcyclists such as Charley Boorman, Nick Mason, Tom Hardy and Woody Harrelson.
Inspired by motorcycles and open to everyone
The same principles that defined the shows applied to the new permanent location, and although the Bike Shed Motorcycle Club has a membership aspect, all are welcome to enjoy the amenities. The club has quickly established a reputation for friendly, efficient service and good food, and currently ranks in the top 3% of the 17,500 restaurants in London reviewed on Tripadvisor. The BSMC also hosted the Distinguished Gentleman's Ride from Central London.
RELATED: 10 Badass Scramblers and Cafe Racers We Found on Instagram
Originally slated for 2020, social distancing laws have delayed the LA debut until May 2022. The LA operation will mirror the style and tone of its London-based predecessor, and the extra space allows for ample parking for motorbikes overlooked by the bar and the restaurant. Comfortable chairs in the shabby chic club style invite guests to relax and chew the fat. Motorcyclists interested in joining the Bike Shed LA as a member can apply through the website. Membership includes access to a dedicated bar and participation in regular meetings, organized outings and events.
The global pandemic has been a nightmare for the restaurant and hospitality industry, and the Bike Shed has had to adapt and cope with the circumstances as best it can. That hasn't stopped the Van Somerens from appealing to their network of biker friends to help London's most vulnerable people. They have transformed the Bike Shed into a distribution centre, served by volunteer cyclists, providing urgent deliveries of food, medicine and essential PPE to frontline healthcare workers and people in isolation. The couple have been recognized for their efforts in the Queen's New Year Honors List and were recently awarded the British Empire Medal.
The road to follow
When we asked about the next steps for the Bike Shed Motorcycle Club, Van Someren was a bit more circumspect. "I would love to see a New York Bike Shed," he told us, but LA's maddening bureaucracy gave the team a reason to stop. "Who knows, we're also looking for more business-friendly locations, like Austin, Texas, and we'd like to expand into Europe as well, maybe Portugal." Like any growing business, a lot will depend on the success of the last venture.
The London location has built a tremendous reputation for excellent food and service in a comfortable and unique environment. If the Bike Shed can successfully replicate the magic that has proven so popular across the pond here in the US, we might yet see a BSMC NY or Austin, or both. As Los Angeles recovers from the pandemic, spacious, airy venues offering great hospitality are in high demand, and since California has the highest concentration of runners per state in the United States, LA is an ideal testing ground. In SoCal, we all know someone who rides, and as Dutch Van Someren would say, "The Bike Shed is for people who love motorcycles, and for people who love people who love motorcycles."
Ducati Museum and Factory tours reopen full-time to in-person visitors
Read more