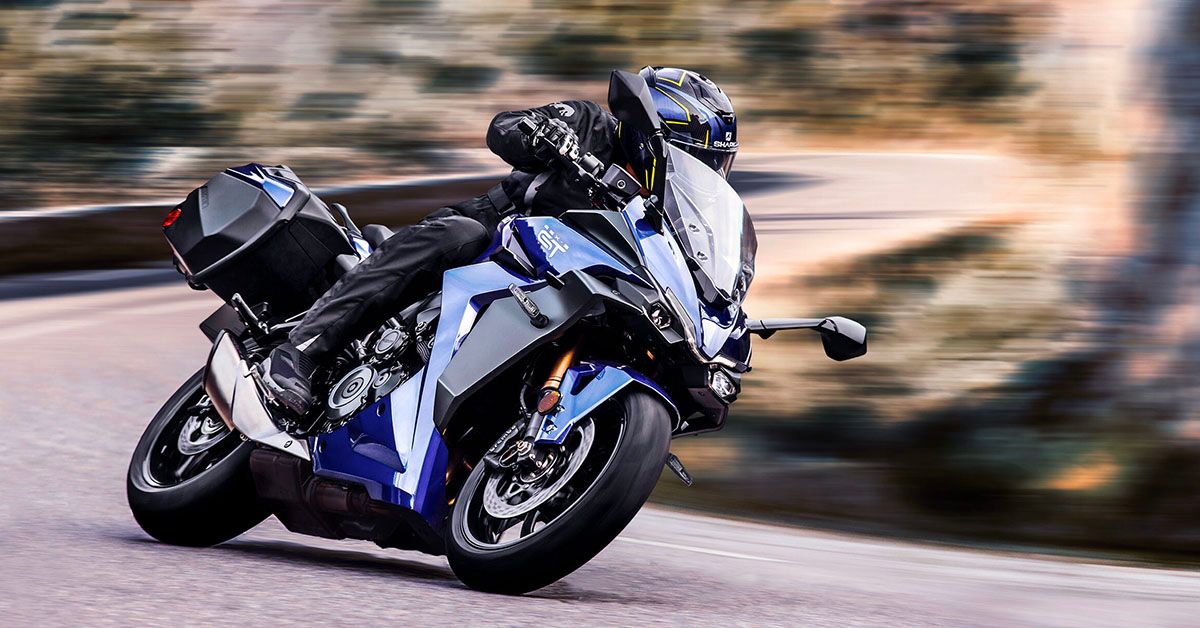 Suzuki are traditionally pretty good at extending the life of their bikes, a way to maximize profits and minimize the expense of the expensive research and development process.
That might sound negative, but in the case of the GSX-S1000, we have a dated naked bike reborn as a very relevant sport-touring machine. Beneath all those new shrouds is the beating heart of the old K5 Gixxer, a sport bike we all know and love. It's obviously out of power compared to its first outing, back then it wasn't yet burdened with the emissions restrictions we see today. But that doesn't mean the GT+ isn't fun.
Related: The 2022 Suzuki GSX-S1000 brings a striking angular look to the street machine
Suzuki has mastered this, the new bit is perfectly suited to the type of riding you'll do on a sport tourer and because they paid for the development of this machine over a decade ago, it's priced incredibly Well.
The GSX-S1000GT+ has a Sublime Inline 4
When the K5 came out in 2005 it was way ahead of its time, not because it had the best suspension or the best chassis, it was all good. But what made it special was that powerful 180 horsepower engine.
At the time, other brands were struggling to make a reliable 160 horsepower, so bringing it out was a lot like bringing a gun to a knife fight. At the time, there was nothing fancy about it, it was just raw power that furthered his point. Over the years things changed, it got more refined, then was finally replaced years ago by an all-new Gixxer, but this cherished engine has survived through the bare GSX-S1000 range. It lost a few horsepower along the way thanks to tougher emissions laws around the world, but it still produces 150 horsepower, more than most can use.
It has now moved on to its most refined version, the GT+, but still has the heart of a hooligan and can now develop some power in the midrange, so unlike before, it can now reduce its power significantly more controlled.
Related: 10 Reasons We Love The Suzuki GSX-R
The GSX-S1000GT+ comes with a full electronics package
Its engine may have an origin story, but the rest of the bike is up to date and with this latest touring package it looks as good as ever.
The GSX-S bikes have had regular updates over the years, but mainly their hardware, for 2022 the GT+ also gets high-end electronics. It gets a 6.5-inch TFT display, but for those who like the traditional Suzuki tachometer, never fear, they've just digitized it. Going with the TFT is the usual wired route, but Suzuki includes other things that other manufacturers will usually charge you extra for.
It gets quick two-way shifting, something even high-end bikes will leave off the option sheet. It also gets integrated hard saddlebags and a pretty decent windshield, their ride modes are also refreshingly simple with just three: Active, which is essentially sport mode, Basic, which is self-explanatory, and Comfort, which sweetens everything and lets the traction control do its job if you're riding in the rain.
Related: The 2022 KTM 1290 Super Duke GT Is The Ultimate Sports Tourer For Hooligans
The GSX-S1000GT+ offers unparalleled value
Few bikes on the market offer this kind of value, similar touring bikes cost over $20,000, you can have this Suzuki fully loaded for less than $15,000.
Related: Here are the 10 best sport-touring and GT bikes on the market right now
There might well be a few older components here and there, but pretty much everything looks and feels like it's on the top shelf.
It makes for an incredibly attractive proposition, the only real competitor being the Kawasaki Concours 14, and even that will cost you around $2,000 more in total. Say what you will about their dated product line, but Suzuki knows how to undercut the competition. It's an absolute monster of a motorcycle for this price and will make much more expensive machines a little boring and a little silly if you ever get the chance to ride them back to back.
Worth mentioning is that this is indeed its first year, the chassis, suspension and engine have all proven themselves but they have never been mated to all this new electronics before, there so there's every chance there will be some teething issues along the way, but we don't see that as a deal-breaker when the deal is this good.
2022 Suzuki GSX-S1000 gets teaser video and reveal date
Read more
About the Author