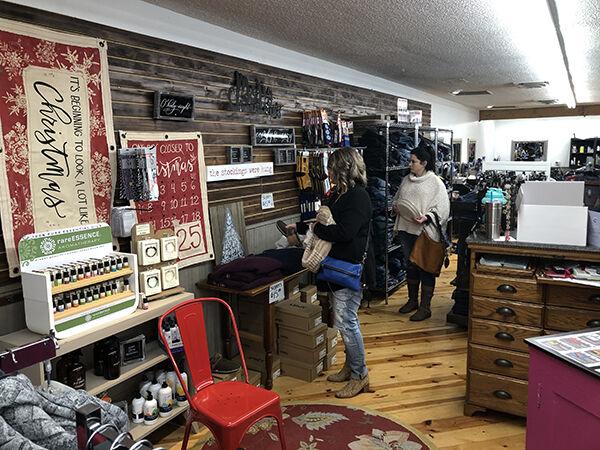 STURGIS – Buy local. Buy small. Buy Sturgis.
This is the theme of this year's holiday shopping at Sturgis.
Shopping local shows businesses that you support them in what they do and their contributions to the community, said Amanda Anglin, General Manager of Economic Development at Sturgis.
The Sturgis Downtown Foundation and the Sturgis Area Chamber of Commerce are encouraging people to buy local this holiday season.
The Downtown Foundation launched its 4th annual Downtown Sturgis Holiday Giveaway competition in early November and it will run until December 1.
People can stop by any of the 30 participating Sturgis businesses to participate and win up to $ 3,000 in gift certificates. The prize draw will take place on December 2.
New this year, the foundation will award two grand prizes worth $ 500 each. Winners will receive an overnight stay at the Sturgis Hotel, as well as gift cards to restaurants and stores of their choice.
People can enter more than once. The more you shop, the more entries you have for the prizes, Anglin said
"Stop by one of the participating businesses, buy something, drop an entree in the bucket and maybe you could win," she said.
Here are the participating companies this year: Black Hills Rally & Gold, Inc., Corner Pantry, Domino's Pizza, Emma's Ice Cream Emporium, Gold Pan Pizza, Heartland Homestore, Hot Leathers Sturgis, Just For Looks Boutique, Loud American Roadhouse, New To You Fashions & Treasures, Oasis Bar & Fireside Lounge, Prairie Emporium, Rockingtree Floral, Rosini Gypsy Tour Tattooing, Sturgis Harley-Davidson, Sturgis Leathers, Sturgis Motorcycle Museum & Hall of Fame, Sturgis Photo & Gifts, Sturgis Strikers, The Hotel Sturgis, The Knuckle Saloon, The Knuckle Brewing Company, The Tattoo Cellar, Tom's T's, Total E'Clips Salon, Uncle Louies, Unique to Antique, White Canvas Art Co., Workhorse Nutrition and Xtreme Dakota Bicycles.
Additionally, the Sturgis Region Chamber of Commerce is encouraging people to buy locally, especially on this year's Small Business Saturday, November 27.
"While we encourage you to buy local every day, Small Business Saturday is a great day to start. Our stores will have specials, snacks and drinks, freebies and more, "said Veronica Grosek, Executive Director of the Sturgis Region Chamber of Commerce.
Anglin and Grosek both challenge community members to fill at least 90% of their holiday shopping list or holiday shopping budget locally.
"Next time you open that Amazon app, think twice – most of the items you're looking for are right here at Sturgis," Grosek said.
Supporting small businesses can pay big dividends for everyone, she said.
"Local Shopping supports stores that genuinely care about our city. Local stores are donating to our football teams, our after-party night, the city's new bike park, our local nonprofits… the list goes on, "said Grosek. "When was the last time a big box store or remote online retailer did this? Say thank you to our stores by giving them your business.
Bob Davis, owner of Sturgis Photo and Gifts, said local businesses are the cog that keeps the community running and growing successfully.
"We have things in our store that you can't even find on the internet. If people want interesting and unique items, we have a whole store of them, "he said. "We also provide excellent customer service and if there is a problem down the road, we're here to take care of it. "
To read all of today's stories, Click here or call 642-2761 to subscribe to our electronic edition or home delivery.