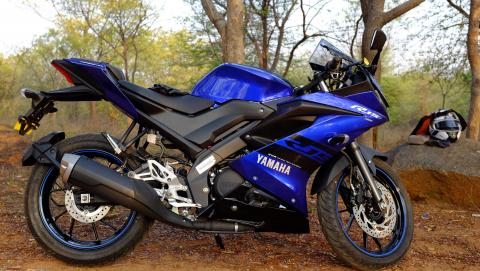 Longevity is not a major concern for me as my bike has covered ~ 3500 km in about 3 years with 3 oil changes.
BHPian Rocketscience recently shared this with other enthusiasts.
My question is about the motor oil from my R15 v3 that comes with Yamalube Sporty Premium from the factory and this is what I have been using since I bought this bike. Yamaha claims that this is a fully synthetic oil but oddly enough, even at its full MRP, it is significantly cheaper than any other such oil on the market despite being OEM (this is usually the reverse with the price). Yamaha's claims about their oil are huge – the engine designers themselves are involved in the creation of their oils and therefore are the best.
But on the other hand, there are many reviews on the internet and YouTube claiming that Motul, Shell and Liqui Moly oils are much superior – they last much longer, help reduce engine vibration and increase mileage and and so on. Now motor oils are not like clothes and it takes a long time to try one on and then compare and it's absolutely not scientific (you'd be comparing your used oil with a whole new one if you change brands). So I ask the BHPians about their experiences on the same subject.
Also, I never thought that changing the engine oils could significantly change the character of the engine (if it did, adding Shell Full Synthetic Oil to Honda iDTEC would just make it as smooth / quiet as the Hyundai CRDi), but as far as I know synthetic oils hold their properties longer and are supposed to be better in extreme conditions and on cold starts, so I stick with my car's. For my bike I am feeling the vibrations and have used Yamaha oil so is there a significant benefit if I switch to something like Motul 7100 or is it largely a placebo effect?
Longevity is not a major concern for me as my bike has done about 3,500 km in about 3 years with 3 oil changes, but cold starts are a bit of a concern as many of my trips are short and over-the-top. when the engine warms up, my trips usually end.
Here is what BHPian shancz had to say about it:
There is a benefit and let me share my experience.

Motorcycle: TVS Apache RTR 180 2011
Factory Oil: TVS Tru 4 10W30 cannot remember minerals / semi-synthetics around 300 / liter in 2011
Upgrade oil: Motul 300V 1100 / liter IIRC 5W50

Raison:

My morning run was to start a cold bike in Bangalore, do a slight uphill 1.5km with speed bumps, then on a smooth road for 1km and park for the next 10-12 hours, 5-6 days per week. Needless to say the bike was rough for the first 5 minutes and by the time it warmed up / smoothed out it was parked. I still felt guilty about the bike and something had to be done. Discussed with a few friends, tolerated 2-3 services with factory oil for better break-in and switched to Motul 300V.

Changes:

The bike was smooth in the morning, no guilt felt, I was happy.

What I hadn't noticed was how well the oil masked the roughness that usually sets in once the bike starts to heat up after prolonged use in city traffic / long rides. I used this as a sign to relax on the freeways.

One fine day, in June 2012, about 14000kms odo, on the way from Bangalore to Pune, taking advantage of the almost empty highways like RTR. After 6 hours of fun, 80 km from Belgaum, the bike felt like it was running out of gas. I pulled the clutch and it stalled. I got off to a safe place to park and tried to drive away, but it only started once and went out. I decided to call my friend since I had the network and he immediately said that you had overheated the bike. I was puzzled as it was butter smooth and then it turned out the Motul 300V had outperformed the RTR 180.

That's the difference it made.

The bike over 55,000 km now, still runs like new, but since it was not with me TVS standard oil is used. I'll move on to something different when I see him again.

Your thoughts are largely captured in a previous article here.

Times have changed and according to the experiences of friends, the Motul 7100/8100 (Duke 390), Liqui Moly (Himalayan, Activa 6G) work very well. The biggest change to the Activa.

I also remember switching from ASC Castrol mineral oil on our Matiz in the early 2000s to the GTX Magnatec and I could feel the engine spinning so freely I was amazed.

From experience I have felt the biggest difference going from mineral to synthetic (semi or fully) rather than semi-synthetic to fully synthetic.

Assuming your Yamaha is at least running on semi-synthetic, you might not feel such a big change in smoothness, but the hot and cold engine experience should be very positive.

So read Access 125's post on grade change and IMO if you want to give it a try, I suggest you try the Motul 300V (should be V2 or something like that now).

Hope this helps.

PS: Check out the Sportztourer channel on YouTube, it has a good video on this topic with lab tests and everything. I think it is a Bhpian too but not sure. The Access Oil Change was inspired by one of his videos.

In addition, you can be more judicious than me in the choice of qualities and costs of oil. Experiment before making it a standard.
Here is what BHPian aargee had to say about it:
Always simpler – The ones I've been using for over a decade (or even more):

Motorcycle Name – Honda CBR 250R
Recommended Oil – Shell 10W40 or Motul 10W40 Full Synthetic

Scooter name (if I can afford it) – Honda Activa
Recommended oil – Shell 10W30 or Motul 10W30 Semi Synthetic

Motorcycle name – Yamaha RX (all variations)
Recommended oil – 5100 Motul 10W-40 Semi Synthetic
Here is what BHPian drt_rdr had to say about it:
If your average running distance isn't high enough to even warm up the engine adequately, I personally don't think you have to worry about spending the extra money on synthetic oils. If you're interested in high-rpm operation, this is where you tend to see the benefits of synthetic oils the most.

For what it's worth, I had tried synthetic and semi-synthetic oils on my air-cooled 150s when I was inclined to spin the nuts. Castrol and Motul made the revving smoother and faster. While there was no noticeable change in the growl, the oil levels also seemed to drop much faster to the point that I had to continue topping up the oil every two weeks. I returned to mineral oils.
Here is what BHPian neil.jericho had to say about it:
Over the past 12 years and 3 motorcycles (Yamaha R15, Royal Enfield Continental GT 535, Triumph Street Triple 675) I have tried several engine oils ranging from OEM to Castrol to Motul to Shell. From my experience, I have found that full synthetic motor oils make my bikes smoother for longer, compared to OEM oils. You will notice the difference.

Between engine oils, roughly speaking, you get what you pay for. The more you pay, the better the product (usually).

Somehow, I just didn't like Castrol's motor oils. Triumph OEM motor oil is sourced from Castrol and owners use it only while the warranty is valid. After that, everyone moves on to another option. I am a big fan of Motul motor oils, especially the 300V which I use quite a bit. But Motul oils are relatively expensive. Over the past few years, I have tried Shell's Fully Synthetic Oils. They don't let the engine run as smoothly as Motul's full synthetic oil, but then again, they cost 70% of what Motul oil does.

Now I'm going to switch to Amsoil for the two bikes in my garage because I've heard great reviews about the product.

Considering your relatively poor running, I will say you can't go wrong with just any engine oil. I suggest you try a fully synthetic motor oil if you are looking for more refinement for your motorcycle. If Motul's full synthetic motor oil falls within your budget, go for it.
Check out BHPian's reviews for more ideas and information.