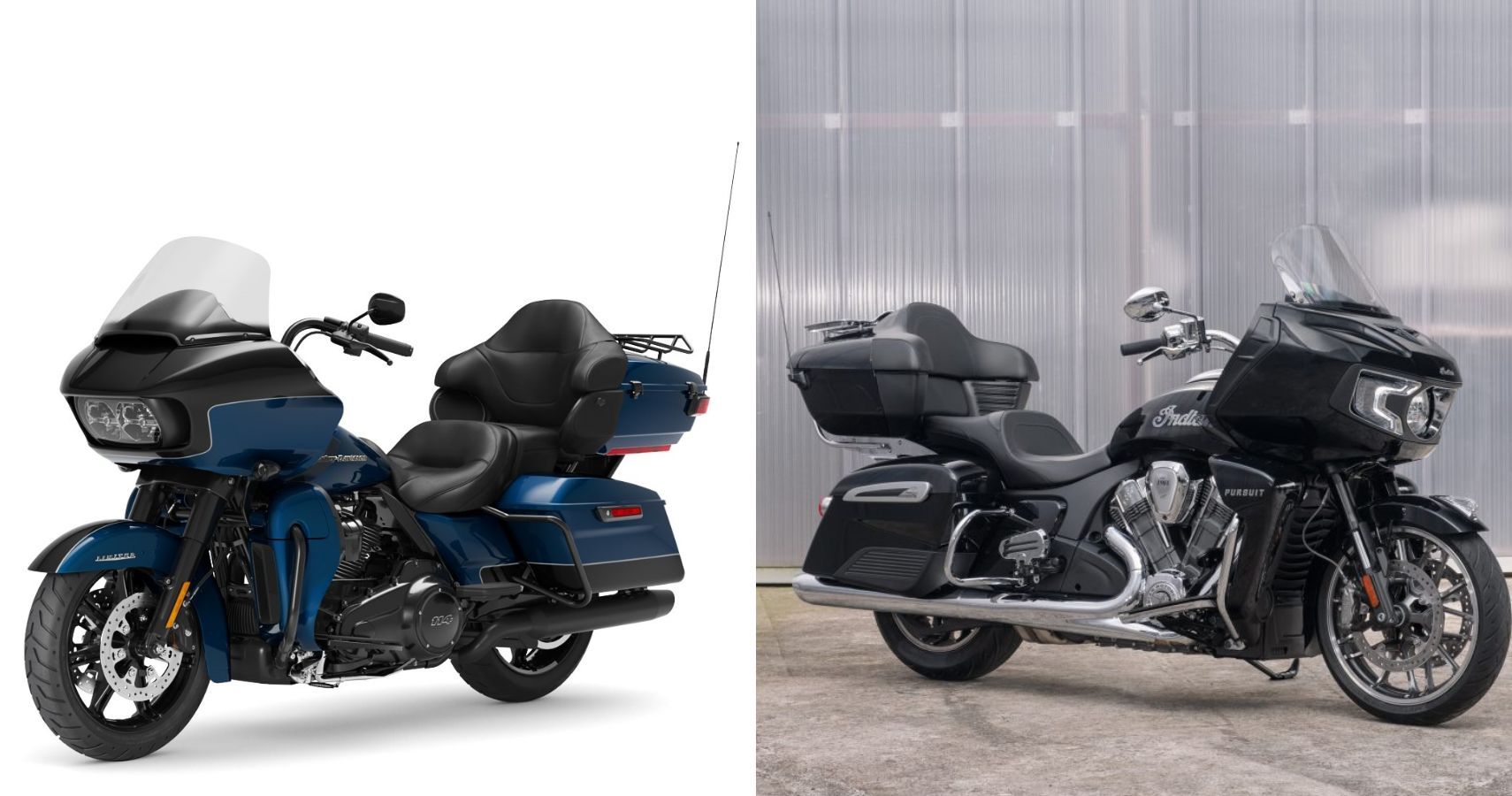 The 2022 Harley-Davidson Road Glide Limited is a perfect competitor for the Indian Motorcycles Pursuit Limited Premium, two prestigious motorcycles that feature a similar profile with many additional features and luxury options.
These two heavyweights belong to the same category of motorcycles – luxury touring, but stand apart to share with you when it comes to choosing between the two. The Road Glide Limited has plenty of features to make its engine more efficient and effective while making the experience safe and fun with sound safety and infotainment features, respectively.
Most aspects are comparable, although the Indian motorcycles delivering more horses wrapped in luxury accommodations with its Pursuit Limited Premium. Read on to find out the similarities and differences between these two luxury passenger cars and which one stands out as the better one.
The 2022 Harley-Davidson Road Glide Limited takes the battle to the Indian Pursuit Limited Premium in this ironclad American touring showdown.
Harley-Davidson Road Glide Limited is a solid ride
When Harley-Davidson created Road Glide Limited, it was well received and had many notable features. At 3000 rpm, it produces 122 lb-ft of torque and 93 hp, and it gets 43 MPG in fuel economy. Additionally, the Road Glide Limited features a 4.5-inch stroke and a 10.5:1 compression ratio.
Its engine is a Twin-Cooled Milwaukee-Eight 114, and it features Electronic Sequential Port Fuel Injection (ESPFI) for increased efficiency. Lights are ubiquitous on this model, making it easy to be seen at night and providing riders with some safety and helping them relax while enjoying a nighttime ride. Its multiple LED bulbs are 40 or 60 watt bulbs, more specifically, low beam is 40 watt and high beam is 60 watt.
The bike is equipped with rear LED indicators, as well as rear lights, brake lights and front signal lights. The bike is equipped with a main drivetrain and a 49mm double bend valve front fork. In terms of braking, the front brakes are dual floating rotors, while the rear brake is a fixed rotor.
Related: Everything you need to know about the new 2022 Indian Scout Rogue
Indian Motorcycles Pursuit Limited Premium steps up a gear
The Pursuit Limited Premium is, as the name suggests, a premium package that offers more than the base model. It has a stroke of 3.79 inches, which is slightly shorter than that of the Harley-Davidson Road Glide Limited. It has a higher compression ratio of 11.0:1. Its liquid-cooled Power Plus engine features an electronic fuel injection system with closed-loop fuel injection, and the engine produces 128 lb-ft of torque at 3800 rpm.
Moreover, the engine boasts 122 HP, which is much more than its Harley-Davidson counterpart. The Pursuit Limited Premium's braking system is a dual radial four-piston caliper up front with a single two-piston caliper in the rear. A front fork suspension is used, with an inverted telescopic fork and a diameter of 43 mm.
Like the Harley-Davidson Road Glide Limited, it has many gauges to feed rider information. Additionally, alerts are provided via LEDs, such as cruise control, high beam on or off, turn signals, ABS, check engine, low oil pressure, battery and low fuel level.
2022 HD Road Glide Limited Packs Healthy Luxury Features
The Harley-Davidson Road Glide Limited has a decent number of nice infotainment features and secure safety features. With four 5.25-inch speakers tuned to play AM or FM radio, riders can enjoy whatever music or audio they want. These speakers feature 25 watts per channel and there is a USB connection so riders can plug in SD cards, MP3 players and thumb drives.
If that's not enough for a pilot's enjoyment, a Sirius XM upgrade is available in Canada and the United States. Bluetooth is standard, allowing riders to make and take calls hands-free, allowing them to focus on riding the bike and watching the road ahead.
Additionally, to give drivers a sense of security, anti-lock brakes (ABS) and electronic braking (ELB) are both included. Cruise control is also a standard option. Unfortunately, these options don't come cheap; depending on the color palette, prices range from $28,729 to $31,874.
Related: Harley-Davidson Road Glide Vs Street Glide: Here's Which One Is Best For Touring
Indian Pursuit Limited Premium shines on the tech front
One of the advantages of the Indian Pursuit Premium is an elaborate infotainment package. It's not as music- or audio-focused for entertainment as the Road Glide Special, but it offers an elevated experience in terms of luxury and functional connectivity. Apple CarPlay integration is part of the package, along with traffic and weather updates, plus navigation and maps. In addition to this, the 2022 models of the Indian Pursuit Limited Premium also offer a one-year free trial of RIDE COMMAND+, although pricing will apply once the trial period ends.
There is, however, a 200-watt audio system with Bluetooth and USB options. That said, a heated seat is also part of the package to help riders stay warm during rides in the colder months. In terms of safety, there are several driving modes, as well as cruise control and ABS.
The Indian also has a 35.8 gallon storage capacity, keyless ignition, heated grips and a power windshield, all of which are features that aren't nearly as important or non-existent as the Road Glide Special. Unfortunately, price is also an element here: depending on the color, the Pursuit Limited Premium can cost between $14,999 and $16,399.
Road Glide Limited Vs Pursuit Limited Premium: The Ultimate Head-to-Head of Luxury Touring
The Indian takes the podium in terms of performance and driving dynamics. When it comes to luxury features, the Harley and the Indian are neck and neck here. The choice comes down to its price which, again, is aggressive in the case of the Pursuit Limited Premium. The Road Glide Limited is on the premium side. So if pricing is the deciding factor, then the Pursuit Limited Premium makes all the more sense.
Sources: Harley-Davidson, Indian motorcycles