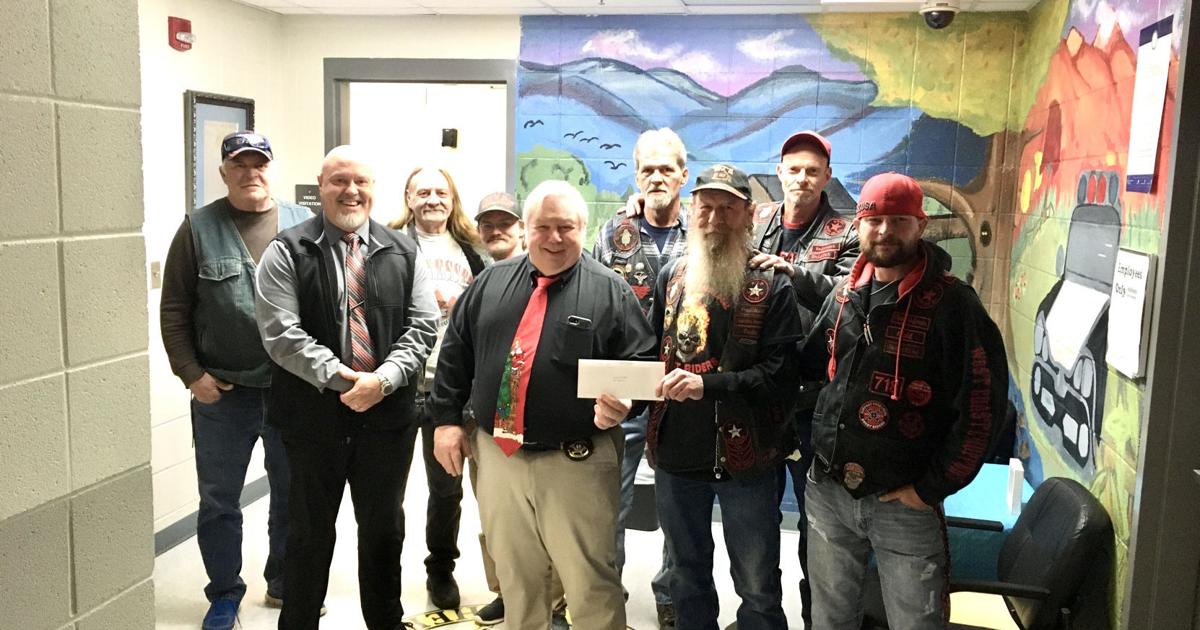 AVery COUNTY – The Avery County Ghost Riders Motorcycle Club visited the Avery County Sheriff's Office to donate money to the department's Shop with a Cop program. Ghost Riders has donated and received funds from businesses, groups, clubs and individuals, with all proceeds going to bring a brighter Christmas to the youth of the region.
Shop with a Cop is a fundraiser where agents from the Avery County Sheriff's Office take underprivileged children shopping during the holidays, then take them out to dinner. The program is designed to foster positive relationships between youth and law enforcement, while supporting families in the Avery community who are in need. The Shop with a Cop program helps ensure that children have Christmas clothes, necessities and gifts.
According to AOHC's deputy chief Lee Buchanan, this year the department was able to take more than 25 local children to shop and dine with the help of community partners.
This is the second year the Ghost Riders have participated in fundraising for the program and expect it to continue to grow year on year. Ghost Riders MC was able to raise $ 1,200 for the Avery Kids, $ 775 in checks and $ 425 in cash. Ghost Riders especially thanked all those who donated money and local businesses including Beam Construction, G&S Trees, Blue Mountain Carpentry, Carolina BBQ, Jack Hicks Trucking, High South Transmission and Tucker's Paint and Body.
"They've been absolutely amazing," Avery County Sheriff Kevin Frye said of helping the Ghost Riders.
Thanks to the fundraising and awareness of the motorcycle club, they were able to really make a difference in the lives of over 20 children for the Christmas season.
Members of the Ghost Riders joked that people glance at you when they see a biker looking for money. The sincere and heartfelt intentions of the Ghost Riders demonstrate that leather and chopper looks can be deceiving.