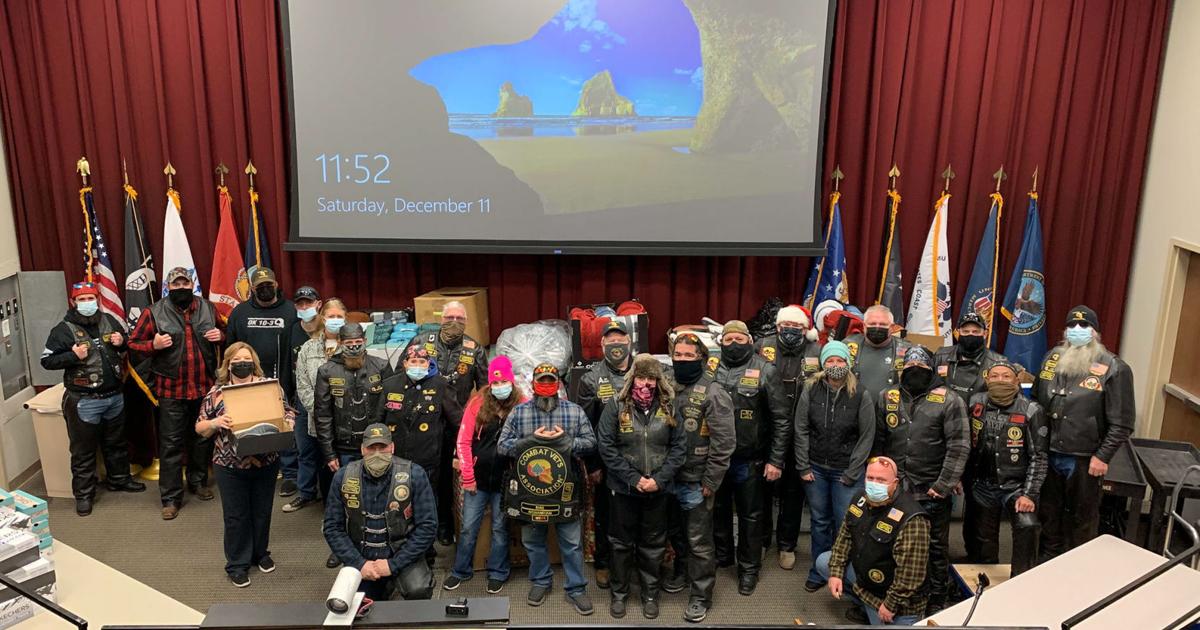 While making a large donation to the Oklahoma City veteran health care system, members of Lawton Chapter 10-3 of the Combat Veterans Motorcycle Association met someone who showed them how far a bit help can go.
"We met a lady who had been homeless," said section secretary Phil Barks. "She had received donations and items from the VA, and now she has a place to live, she is standing."
The donation – and the chance encounter – took place earlier this month when more than a dozen chapter members arrived at the health care system building ready to unload the $ 6,000 worth of shoes, clothing and personal hygiene products they had brought with them.
The chapter has donated items to the Veterans Affairs System in Oklahoma City since 2018. In previous years, the donation was paid for through public donations to the Motorcycle Association. This year, however, the material donated was paid for with money the organization won during the Wheels for Warriors Poker Run in May.
Since the start of the COVID-19 pandemic last year, the veterans health system has changed its donation acceptance policy, only allowing donations of new clothing, nothing second-hand.
With the rule change in mind, since 2020 Chapter 10-3 has bought every item they donate, building relationships with businesses and getting better deals to buy in bulk, Barks said.
"We stop now and say, 'Hello, it's us again,' Barks said.
Once the funds were decided, the purchases of the donated items took a little over a month. Most of the time, the chapter donated boots, shoes and jackets.
When the Chapter made its first wholesale donation, it was done without much fanfare. However, when they returned the following year, the people in the health system building took note.
"The second year, people came down from the administrative office to thank us and take pictures," Barks said. "And it's been sort of like that every year since."
Now the chapter is met by the administrators for their donation every year. They take photos, unload items and stop for dinner with the Oklahoma City chapter of the association.
One of the administrators who met them this year was Phillip Ybarra, public affairs specialist for the veterans health care system in Oklahoma City. Ybarra said the Veterans Center particularly appreciates the bulk donations they see during the holiday season.
"It's always great to see organizations making such donations," Ybarra said. "Open their hearts this holiday season to those in need. "
According to the most recent estimate, Oklahoma City has 4,000 homeless residents, including 400 veterans. Barks said the duty of the Combat Veterans Motorcycle Association is to provide camaraderie and support to all veterans, and it is a duty the organization takes seriously.
"Our motto is 'Veterans Help Veterans,'" said Barks. "We take care of each other. There is a camaraderie that doesn't exist in the civilian world, and we try to provide that when people go out.