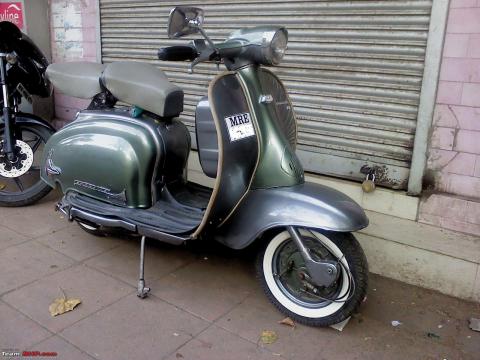 My experience with the older generation of scooters is that they were definitely tough and durable, but had issues that needed to be addressed on a regular basis. But overall, ownership has always been a pleasure.
BHPian anjan_c2007 recently shared this with other enthusiasts.
The commuter two-wheeler scenario has seen drastic changes, but only in the long term. It was only bicycles earlier, but in the mid-1950s, scooters from Automobile Products of India Ltd (API) namely Lambretta and Bajaj Auto Ltd (BAL) namely Vespa started to enter our market of two wheels. Vespas and Lambrettas ruled the markets in the 60s and 70s. Fantabulous of Royal Enfield and Rajhans of Escorts with a few lesser players like Gujarat Narmada and a few others had almost no impact on Big Two sales and have were sooner or later relegated to history.
Come the Vijai Super in 1975 and soon in its various avatars (state brand avatars) the Lambretta glitter faded and in 1987 the API had to end the production of scooters. Bajaj continued its race for victory by eclipsing the glory of the Vijai brands in the early 90s. Piaggio Vespa launched its models in 1982, claiming they were way ahead of the competition with newer designs, but they had to. satisfy their grip on the market with sales figures that did not come close to Bajaj. Mr. Rahul Bajaj was finally crowned "King of the Scooter" by the media.
In 1985, Indo-Japanese 100cc commuter bikes made inroads and the four brands viz. Ind Suzuki AX 100, Hero Honda CD 100, Yamaha RX 100 and the latest entrant Kawasaki Bajaj KB 100 jointly made an impact on the market scene. But the Bajaj Super, Cub, Priya and Chetak continued to be sold in decent numbers. Indo-Japanese motorcycles upgraded their games with 110/125/135 cc variants / upgrades and attracted young crowds who would prefer them to scooters on any day. In 1987 Kinetic Engineering launched a googly into the two-wheeler market with its Honda Kinetic 100 cc. Popularly called the KiHo, it has captured the hearts of many customers, ruling our market for around 14 to 15 years. Ladies and old people preferred this scooter as one of the best two-wheeled wonders in everyday life. Mr. Dilip Bam, who also coined the term KiHo during his test drive for the Indian Auto Journal, said this scooter wins my heart because it can carry a gas cylinder without the hassle on its running board. By the way, Mr. Bam owned one until his recent death.
But despite such headwinds, Bajaj Auto's scooters continued to sell, even though they felt nervous with their only surviving competitor LML Vespa (later only LML) due to the forays made by 100-135 cc motorcycles. . The Kinetic Honda continued to sell decently as its niche was defined. And the Kawasaki Bajaj KB 100 / RTZ / 125 has sold the least of the quartet for quite a long time. Bajaj soon entered with its four-stroke bicycle engine to capture market share.
In the 1990s, Bajaj and LML attempted to introduce several variations of their top selling scooters with almost the same mechanics to attract more customers. In fact, Bajaj had introduced the Cub (125cc) in 1985 and had four models on offer, including the Priya from PSU Maharashtra Scooters which was purchased soon after by Bajaj Auto.
The new scooter models for Bajaj (like the Stride / Bravo / Legend / Saffire) and LML (like the Select / Supremo / Sensation / Pulse / Star) have attracted a limited number of buyers, although only some of these models were popular at the time. But the glitter of scooter ownership had come full circle after the turn of the millennium. 100-150 cc motorcycles (some with higher displacement like the Pulsar 180) continued to conquer the market after 2000.
With the successive failures of their three to four four-stroke scooter offerings, Bajaj Auto left the scooter market. Papa Scooter King, Mr. Rahul Bajaj, however, was unhappy with his son Rajiv's decision, but the latter decided to hang on only to the bicycle market. TVS came and went with their four-stroke scooter, the Spectra.
In 2001 the Honda Activa was released and quickly took the market by storm and created its own niche, quickly reigniting the passion signaling a restart of the enjoyable years of scooter ownership. In fact, it quickly entered the commuter bicycle market to become a dominant player. Others like Suzuki, TVS, HeroMotoCorp and Yamaha quickly followed to carve out a share in this Honda-dominated unequipped scooter market but had to be content with their "lower-than-Honda" sales.
Returning to the title of this thread, we would like members' opinions on how to manage the ownership of Lambretta / Vespas from the old generation up to the latest 100cc or larger commuter bikes and the market created by the Honda Activa non-adapted and his peers.
As for me, I learned to ride scooters with my father's Lambretta as he owned three in different years. I also had a 1985 Bajaj Super and I also bought an Ind Suzuki AX100 in 1986. Replacements took place and I bought a Yamaha RX 100 in 1990 (still with me). Also, in 2003 I bought a Honda Activa (still with me).
My experience with the older generation of scooters is that they were definitely tough and durable, but had issues that needed to be addressed on a regular basis. But overall, ownership has always been a pleasure. The Ind Suzuki AX 100 with some 7 hp and more felt a bit underpowered but was extremely reliable. The engine was silky smooth and starting was so easy. After riding the older generation bikes and scooters this change was very noticeable. It was delivering 50-55 km / l and that was too good. It had a smaller wheelbase than the competition, so balancing it wasn't as easy as its peers. All the 100cc motorcycles made a big difference in the ride as long rides never got tired and I could always want more. The Yamaha RX 100 has captured my heart and now has 31 years of ownership with me. It's so hard, brutal and fast, even today. This order has very good resale value today. The opaque and gray smoke from the exhaust is well extinguished because today, the Greens have their say everywhere. Coming to the Activa, it is extremely reliable for crowded daily trips and carries everything one needs with its two-wheeler limitations.
Lately I bought a 1963 Lambretta in 2016 just to keep the old memories alive. We can never forget until the last breath his first love and his first encounter with metal. Even more if he or she is a Team-BHPian
Here is what ebonho BHPian had to say about it:
My first two-wheeler in college was a Honda Kinetic.

A year later I sold it and bought a Kawasaki KB 100 RTZ. Simone. Still in college. What I did for 10 years, until the birth of our second child.

Then after the block piston seized up for the second time, I sold it for 10K to a local mechanic and bought the first batch of Pulsar 180.

I rode it for less than a year and sold it and bought my Bullet 500 Standard (Doppie, Doppelganger, which I still have).

Then in 2007, a year after the birth of our third child, I bought Figgy, my LB 500 Machismo. I rode it a lot while modifying and running my Standard 500, and it was my main touring rig, until I sold it to a friend in 2011.

I briefly bought a Classic 500 UCE first batch and sold it after a big tour. It was the end of my love affair with RE as a company and its new (plus) bikes.

I then bought my KTM Duke 200 (Baby Duke 222) in 2012. I rode it for a few years and then sold it.

And I bought my Duke 390 in 2014.

Since 2016, I have been a cyclist, and now a State Masters champion, and I plan to deepen the Masters course full time.

During this time I saw the Indian scene (out of the corner of my eye) switch to maxi and E scooters. Guess it was a nice ride while it lasted.

Hi doctor
Here is what BHPienne Mafia had to say about it:
Change is the only constant. While I enjoy the nostalgia, there are reasons things aren't flowing anymore.

While it's nice to look back and remember the good old days, mostly we only remember the good things. Rarely struggles and the rest of bitterness.

My experiences have taught me to grow and move forward. Although I remember many things fondly, I cannot go back and enjoy old things with the same intensity as when they were new. I therefore invariably regret having somewhat spoiled the original memory.

As I jealously gaze at the old Jawas, I eagerly await the last and newest bike on the market to buy.
Here is what BHPian drt_rdr had to say about it:
We had a few nostalgic possessions in the family: the RE Silver Plus, Hero Puch, Bajaj Chetak, Suzuki Fiero, HM Ambassador, Maruti Zen, TVS Scooty, a few different bikes like the old Standard Atlas, Hercules Cannon Barrel, Hero Hawk, BSA Champ et al. Some of them are no longer with us, but personally I don't have any kind of nostalgia for any of them.

Apart from the bikes, the Zen and the Fiero are the only ones that I think deserve to be preserved. The rest, I think, is more of a problem than it is worth.

Meanwhile, my Suzuki GS150R is another rare find that I would like to preserve and ride as long as there is no other motorcycle in our market with similar features of vertical ergonomics, huge tank, towable engine but nonetheless quick and gentlemanly, well-elevated handling, excellent build quality and features that hold up very well even 10 years later, all at a fairly easily manageable weight. The day Suzuki brought a GS250R or something here, it would lose value to me. And I look forward to this day.
Check out BHPian's reviews for more ideas and information.