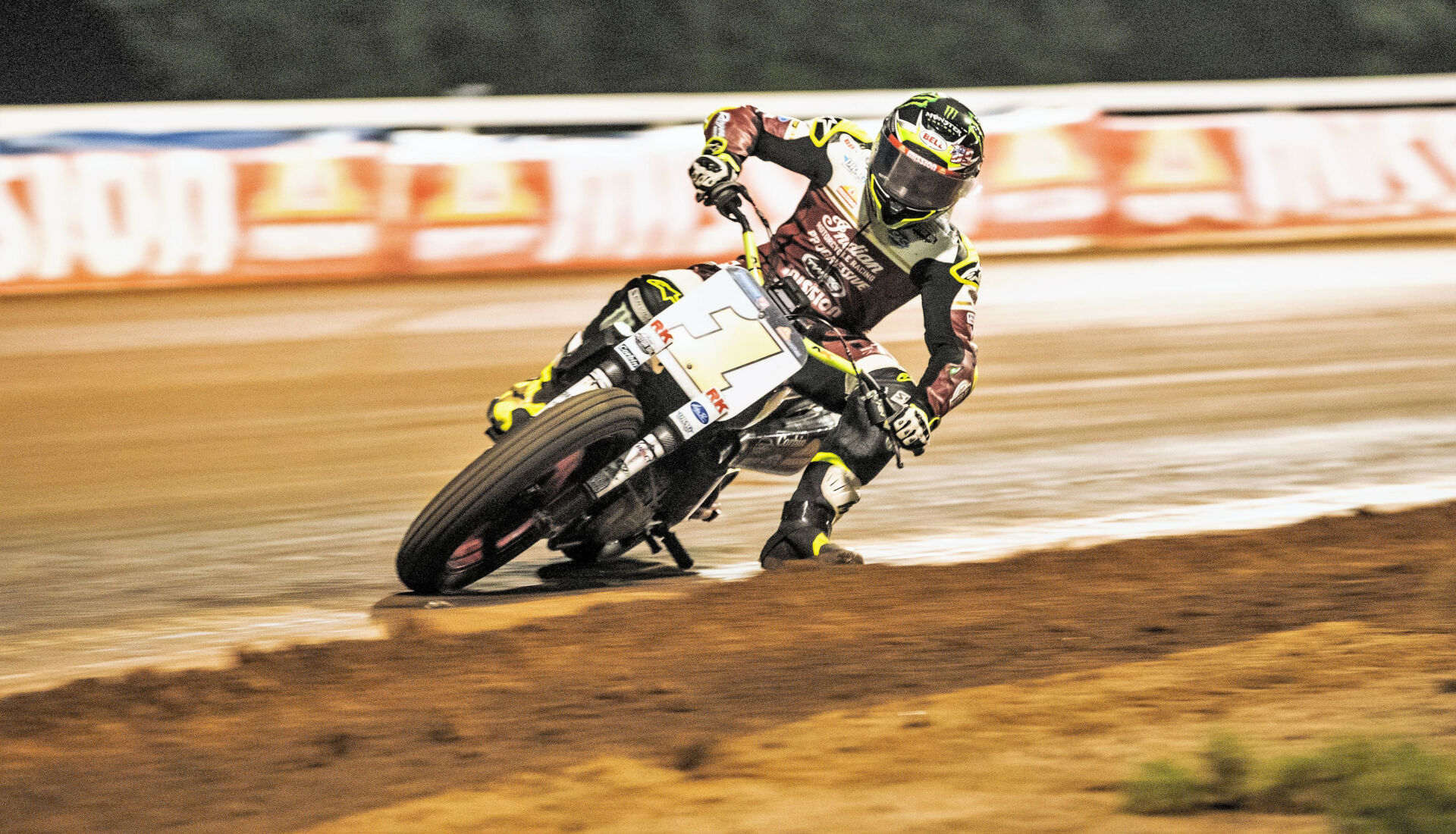 INDIAN MOTORCYCLE RACING TAKES VICTORY AT RED MILE II WITH EXCITING PERFORMANCE FROM JARED MEES
Mees extends his championship lead with successful double-handed performances aboard his FTR 750
Minneapolis, Minnesota. – It was an exhilarating race weekend for Indian Motorcycle Racing, presented by Progressive Motorcycle Insurance, with reigning SuperTwins champion Jared Mees bouncing back from a second-place finish at Red Mile I to come away with an impressive win the following night at Red Mile II. Mees' victory extended his points lead to 109 in the championship standings, 22 points ahead of second-place finisher, and gives Indian Motorcycles its fourth overall win for the 2022 American Flat Track season.
The weekend's success is all the more impressive given new American Flat Track regulations that require teams using the FTR 750 to use a 34-millimeter restrictor plate. This ultimately inhibits the FTR 750's ability to produce power unlike competitor bikes where the restrictor plates are not required.
On the first night of the Red Mile doubleheader in Lexington, Kentucky, Mees fell to series rookie Dallas Daniels in a fierce battle that lasted throughout the 14-minute-plus-two-round main event. Mees and Daniels maintained a position too close to call for the majority of the race, swapping leads repeatedly. On the final lap, Mees made what he thought was the game-winning pass, but Daniels had different plans, blasting the defending champion to cross the finish line just 0.008 seconds ahead of Mees.
Mees' true champion spirit was on full display the following night when he returned in front of another sold-out crowd for a rematch at Red Mile II. From the start, Daniels and Mees again led the pack, with Davis Fisher eventually joining them to make it a three-way fight for first place. In an explosive fight to the finish, Mees made a last minute charge, storming Daniels on the final lap to take the checkerboard and win. The win marked Mees' 23rd win of his career, tied for fifth all-time in the discipline.
"It was an exciting two days of racing for Jared [Mees] and the entire Indian Motorcycle team, especially given the enormous challenges we have been forced to overcome with AFT's newly imposed restriction plate limitations for our bikes," said Gary Gray, Vice President Racing, Service & Technology for Indian Motorcycle. "It's truly disheartening to see our FTR 750 so drastically weakened compared to the competition, but it makes the incredible efforts of Jared and Davis all the more impressive, and we couldn't be prouder of them and their teams. for the skill and determination that finally put us on the podium.
"The first two rounds, Dallas [Daniels] and I had a fairly comfortable lead," Mees explained his performance at Red Mile II. "It allowed me to hold back a bit, to follow him around to get a sense of where I could move. There is no room for error in this situation. When you decide to take action, you have to make it count, and that's exactly what I was able to do. It was good to get the win, especially after coming so close on the first lap.
The 2022 American Flat Track season continues June 11 for the Laconia Short Track at New Hampshire Motor Speedway in Loudon, New Hampshire.
Sponsors of Indian Motorcycle Racing's American Flat Track efforts include Progressive Insurance, S&S®, Indian Motorcycle Oil, Mission Foods, Bell Helmets, Drag Specialties and Parts Unlimited.
For more information on Indian Motorcycle Racing, visit IndianMotorcycle.com and follow us on Facebook, Twitter and Instagram.
ABOUT INDIAN MOTORCYCLE®
Indian Motorcycle is America's Premier Motorcycle Company®. Founded in 1901, Indian Motorcycle has captured the hearts of motorcyclists around the world and has distinguished itself as one of America's most legendary and iconic brands through unparalleled racing dominance, engineering prowess and countless innovations. and firsts in the industry. Today, that heritage and passion is reignited under new brand management. To learn more, please visit www.indianmotorcycle.com.